South Bend Police Department Press Release
Tuesday, December 15, 2009
_____________________
See the
SBPD Blog
for the latest news and media releases.
-
Friday, November 27, 2009
Beware of Counterfeit Money
___________________________
The South Bend Police Department has seen an increase in both the quantity and quality of counterfeit U.S. currency in recent weeks. At one large retail location within the last three weeks, the SBPD was summoned and presented with five counterfeit $100.00 bills that eluded detection until it was too late. The highest quality bills are produced by a method in which a real U.S. $10.00 bill is washed until the ink is gone, then the paper is passed through a high quality printer rendering a counterfeit $50 or $100.00 bill. By utilizing this process, the "feel" of the bill is maintained and it will pass the counterfeit detection pen test used by many retail establishments. On the other hand, simply scanning and printing $20.00 bills on a good bond of plain paper is alive and well and these forgeries are still finding their way into cash registers.




Without a doubt, the best method for merchants and the public to not fall victim to these thieves is by being properly trained in what legitimate bank notes look like. The re-designed U.S. currency makes use of many printing techniques to improve legitimacy however if retail staff or consumers are not aware, these upgrades are useless. There are very few forgeries that will pass most of the tests that the average person can perform on the spot. Detecting forgeries immediately helps law enforcement, consumers and retailers at the same time.



The SBPD urges everyone to be familiar with the elements of legitimate currency. For examples of real U.S. banknotes look here: http://bit.ly/524vf1

Wednesday, November 18, 2009
_________________________

Click the title to see the suspect's picture

Wednesday, October 28, 2009
________________________________
Help us determine the identity of this woman. Click on the Title/link to be directed to our blog to see her.

Tuesday, October 20, 2009
____________________
The following individual is being sought for questioning concerning the robbery of the Bank Of America branch at 1404 E. Ireland Rd. on Monday, October 19, 2009:


Kevin Matthew Bowen, M/White 36
5′-07″; 130#; Blonde hair, Blue eyes

Bowen is known to frequent both the South Bend and Mishawaka areas.

If you know Kevin Bowen's whereabouts call the South Bend Police Department immediately at 574.235.9201

*Click the title for a photo*

Monday, October 19, 2009
Help the SBPD Identify a Bank Robber
At 1:02 PM, the SBPD received a call of a robbery at the Bank of America branch, located at 1404 E. Ireland Rd. in the City. Officers arrived and were told that a male white subject had entered the bank, approached a teller and demanded money. He stated that he was armed, however no weapon was seen. After securing a sum of cash the man fled on foot to the east and it is believed to the north, into a residential area. No one was injured and there were only a few patrons in the establishment during the robbery.
The suspect is described as:
Male, white. Approximately late 40's, 5'-06", thin build
with a gray goatee. He was wearing dark pants,
a blue (possibly Nike brand) wind shirt and a green
baseball cap.
See his images here:
http://wp.me/pxPKg-O
Anyone that can help ID this bank robber is asked to call the SBPD at 574.235.9201 or Crime Stoppers at 574.288.STOP. Sgt. Ronald Nowicki is in charge of the investigation.
Tuesday, October 06, 2009
Counterfeit Money Scam Linked to ND Ticket "Scalpers"
__________________________________
The SBPD has received a complaint from a Chicago, IL man who reports being paid for a Notre Dame football ticket transaction in counterfeit U. S. currency.
A "tour guide" brought some individuals to South Bend from Chicago to attend the Notre Dame v. Washington game on October 3rd. He had a few no-show guests and was left with a quantity of extra tickets. He sold same to street vendors (so called, "scalpers") in the vicinity of Notre Dame Ave. and Angela Blvd. Upon returning to Chicago his bank alerted him to the fact that much of the money he had deposited was counterfeit.

Both counterfeit Notre Dame football tickets and now, currency have been linked to individuals selling tickets on the streets. Please beware and purchase tickets from legitimate sources.

Friday, September 18, 2009
Saturday Traffic Expected to Be Very Heavy
__________________________
Your South Bend Police Department would like to remind everyone that this Saturday, Sept. 19, will be a very busy day for pedestrian and vehicular traffic. Not only will the Notre Dame vs. Michigan State fans create what will probably be the largest traffic draw of the season, but the "Salmon Chase" walk and run will cause significant road closures and delays during the morning hours in the Downtown and north/river neighborhoods. Please plan your travel accordingly and watch out for a very large number of pedestrians.
Lets make this a safe gameday.
Salmon Chase Map
Saturday, September 12, 2009
Body Found In River / Updated
_______________________
Update to yesterday's story: (The original appears below):
An autopsy was performed on the victim in this case this morning at at the St. Joseph Hospital Morgue in
Fort Wayne
Indiana
. Dr. Pramod Carpenter conducted the autopsy and found no signs of trauma to the victim and has determined the preliminary cause of death to be a result of drowning. Microscopic examinations and toxicology tests are pending at this time. The case is being considered an accidental death at this time.
Metro Homicide Unit Technicians were able to identify the victim through his identification, as well as several known tattoos and medical procedure information. The victim has been identified as:
Jeffery S. Elliott
Male white
53 years of age
Mr. Elliott was a resident of
South Bend
; however Investigators have not been able to locate any family members living locally. Investigators were able to make contact with a female friend of Mr. Elliott's, who told them that Mr. Elliott's' parents were both deceased, and that she knows of him to have a brother and a sister who both live outside the State of
Indiana
. All attempts to find Mr. Elliott's siblings have been fruitless to this point.
The Metro Homicide Unit is asking anyone who may have information regarding Mr. Elliott, his family or his activities since September 3
rd
, 2009 to please contact Lt.
Brian Young
at 574-235-5009
.
Capt. Michael D. Grzegorek
Assistant Commander
St. Joseph County Metro Homicide Unit
__________________________________________________________________________
At 12:16 PM, this date, the SBPD Communications Center received a call from a citizen reporting what she believed to be a body in the St. Joseph River adjacent to the 900 block of Northside Blvd. SBFD Water Rescue personnel arrived and confirmed the fact that there were human remains approximately 10 yards from shore and began to recover the body.
The St. Joseph County Metro Homicide Unit (MHU) was called along with the County Coroner's Office as is standard procedure in these type of found body incidents and they will investigate the case. An autopsy has been ordered and the body has been transported to a morgue in the region. The exact time and date of the autopsy is unknown at this time.
The individual appeared to be a middle-aged male white, fully clothed and wearing prescription eyeglasses. There was a wallet discovered in this person's clothing and an Indiana ID card located in same, however it will take additional research to verify the identity. The body appeared to have been in the water for several days at the least.
Labels: Jeffery Elliott Drowning
Saturday, August 01, 2009
Help Find Missing Leroy Mahan of South Bend: UPDATE
FOUND ! 8/12/09 Cancel Missing Persons Report.
___________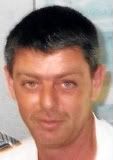 Leroy Mahan was reported to police as missing Thursday, after he failed to return from a bike ride.
Family members say Mahan was last seen in the area near Donmoyer and South Main streets about 11:15 a.m., riding a green woman's mountain bike. He had left his family's house wearing a white T-shirt, blue jeans, a silver watch and black shoes. He also has a tattoo of a cowboy hat on his arm.
Mahan, who is 5 feet 8 inches tall with a medium build, left home without medications for a heart condition and a mental condition.
Anyone with information about Mahan's whereabouts is asked to call the South Bend Police Department at (574) 235-9361.
Archives
06/01/2005 - 07/01/2005 07/01/2005 - 08/01/2005 08/01/2005 - 09/01/2005 09/01/2005 - 10/01/2005 11/01/2005 - 12/01/2005 12/01/2005 - 01/01/2006 01/01/2006 - 02/01/2006 02/01/2006 - 03/01/2006 03/01/2006 - 04/01/2006 04/01/2006 - 05/01/2006 05/01/2006 - 06/01/2006 06/01/2006 - 07/01/2006 07/01/2006 - 08/01/2006 08/01/2006 - 09/01/2006 09/01/2006 - 10/01/2006 10/01/2006 - 11/01/2006 11/01/2006 - 12/01/2006 12/01/2006 - 01/01/2007 01/01/2007 - 02/01/2007 02/01/2007 - 03/01/2007 03/01/2007 - 04/01/2007 04/01/2007 - 05/01/2007 05/01/2007 - 06/01/2007 06/01/2007 - 07/01/2007 07/01/2007 - 08/01/2007 08/01/2007 - 09/01/2007 09/01/2007 - 10/01/2007 10/01/2007 - 11/01/2007 11/01/2007 - 12/01/2007 01/01/2008 - 02/01/2008 02/01/2008 - 03/01/2008 03/01/2008 - 04/01/2008 04/01/2008 - 05/01/2008 05/01/2008 - 06/01/2008 06/01/2008 - 07/01/2008 07/01/2008 - 08/01/2008 08/01/2008 - 09/01/2008 09/01/2008 - 10/01/2008 10/01/2008 - 11/01/2008 11/01/2008 - 12/01/2008 12/01/2008 - 01/01/2009 01/01/2009 - 02/01/2009 04/01/2009 - 05/01/2009 05/01/2009 - 06/01/2009 06/01/2009 - 07/01/2009 07/01/2009 - 08/01/2009 08/01/2009 - 09/01/2009 09/01/2009 - 10/01/2009 10/01/2009 - 11/01/2009 11/01/2009 - 12/01/2009 12/01/2009 - 01/01/2010