_________________________________
At approximately 3:30 PM today, Anthony Fisher, 36 was arrested by the South Bend Police Department Uniform officers after receiving a "tip" of being a Escapee from Newton County, Indiana on January 26th. Upon the first arrival of the uniform units Mr. Fisher fled on foot and was subsequently apprehended a very short distance away. He was positively identified as the escaped fugitive who gained his freedom with the assistance of an armed accomplice. The location of the apprehension was near the 300 block of South Logan St. in the City.
During the investigation a male subject who was with Mr. Fisher, identified as Daher, James J. Jr. was also arrested in connection with the escape. Several articles of evidence were collected linking these suspects to the crime as well as a vehicle.
FISHER, Anthony R.
unknown address Kentland, Indiana
W/M age 36
DAHER, James. Jacob Jr W/M age 51
Indianapolis, Indiana
Newton County officials and Indiana State Police are scheduled to arrive in South Bend tomorrow (January 30) to continue the investigation.
Labels: Anthony Fisher, Escaped, Fugitive
_____________________
All SBPD sponsored community activities scheduled for Wednesday, January 14th. 2009 have been canceled. This includes the Police Boxing Club.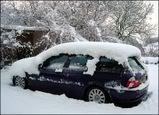 ________________________________
As we brace for a predicted large snowfall, the SBPD is warning vehicle owners that by City Ordinance, all vehicles parked on public thoroughfares must be moved every 72 hours, or be subject to towing.
Parked, snowed-in vehicles pose a difficulty for proper snow removal on city streets. The SBPD will be tagging vehicles that have obviously not been moved in some time and towing them after 72 hours. Unmoved or otherwise abandon vehicles on residential streets collect snow and often times effectively close half of the road.
The South Bend Police Department urges all vehicle owners to move vehicles off the roadway after a large snowfall to allow plows to clean the entire street and promote public safety.