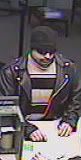 ___________________
On 11/18/2008 at approximately 2:30 PM, the Mutual Bank, located at 742 E. Ireland Rd. was robbed by a lone suspect:
Blue jeans/Cap/Tan sweater with dark vertical stripes/ Black Leather type jacket/thin beard and mustache.
Possible Vehicle: Blue Toyota Camry, with Indiana plate.



If you know who committed this robbery, please call the South Bend Police Department at 574.235.9201, or Crime Stoppers at 800.342.STOP.
__________________________
Update: This Session Now Full. No Other Applications Accepted.
The SBPD is organizing a Women's Self Defense Course to be held Tuesday, Nov. 11th, and Thursday, Nov. 13th, 2008, from 6:00-7:00 PM.
They will be held in the Defensive Tactics training room at the SBPD headquarters. Cost for the class will be $5.00 per participant, and is open to females 18 years old and over. There is a limited number of spaced for the class, and we expect this to be a very popular course. The training will center on proper techniques, moves and strikes that females can use to ward off accostings or aggressive attacks.
The class instructors will be Corporals Betsy Culp and Anthony Pearson, both are certified instructors who regularly teach defensive tactics courses to law enforcement. For more information or to sign-up call 574-235-9224.