South Bend Police Department Press Release
Wednesday, October 31, 2007
Fraud Alert: Counterfeit $100.00 Bills
_______________
The SBPD has noted a slight upsurge in the presence of counterfeit $100.00 bills in the area.

The most recent scheme involves taking a valid U.S. $5.00 note and chemically bleaching the image and numerals off of the bill. The paper is then sent through a printer that delivers the images and numerals common to a U.S. $100.00 bank note. Because the counterfeit is printed on valid U.S. Mint paper, it has the texture, feel and embedded fibers of money as well as not reacting to "counterfeit detection pens" that many retailers rely on to detect forged notes.

The fraudulent bills do however have a few errors that a cautious person can detect. The watermark on the counterfeits still bears the image of Abraham Lincoln when it should, obviously be Benjamin Franklin and the embedded fiber strip in the bill (called the Thread) still reads "USA Five". Also, the ink on some of the forged bills will smear if rubbed, and the "100" printed with what is supposed to be color-shifting ink is not.

So far, two of these bills have made it to small businesses in South Bend, however, fraud investigators report these bills being circulated and/or recovered from Chicago to the counties of Northeastern Indiana.

Friday, October 26, 2007
Another Stolen Property Bust Nets Items and Cash
_____________
On 10-25-2007, the SBPD conducted another search warrant, this time in Western St. Joseph County, with regard to a stolen property "fencing" operation. Shortly before 11:00 AM, officers arrived at the residence of Louis J. Rudynski, male, age 82, located at 29898 U. S. 20 West, New Carlisle. South Bend Police investigators again infiltrated an operation that has been allegedly knowingly and intentionally purchasing stolen proceeds from burglaries, larcenies and shoplifting, only to sell the items at out of town flea markets. Undercover officers were used to sell items purported as stolen, which were recovered during the search, as well as locating other items of interest. Along with various tools and hardware items seized, a pick-up truck, a quantity of handguns, collector coins and in excess of $25,000.00 in cash were removed from the premises.

Mr. Rudynski and his wife Ruth were at home during the search and after the operation was conducted they were not taken into custody. The entire case will be submitted to the St. Joseph County Prosecutors Office for review. The activities of these individuals could possibly reach into other counties in Indiana or Michigan. The SBPD is committed to infiltrating and dismantling stolen property and burglary rings operating in the area.

One specific lesson that can be passed-on to contractors, residents or workers that risk the theft of expensive tools is that of diligently copying serial numbers and registering the items with the manufacturer. Many, many items of value, including construction equipment, are lodged into our evidence and property rooms daily with no hope of being re-united with their owners, despite having clearly visible serial numbers.

Thursday, October 25, 2007
Arrest Made In Connection to Seven Bank Robberies
___________________
On Saturday, October 20, 2007 at approximately 11:10 AM, the Notre Dame Federal Credit Union located at 3457 N. Portage Avenue was robbed . A lone male, armed with a handgun robbed the institution before fleeing in a Tan Nissan. An alert citizen saw the suspect and noted the license plate number of the getaway vehicle. At that point, uniform officers conducted an exhaustive investigation that led to the positive identification and arrest of the suspect in this case.

Later, detectives with the SBPD Investigative Division interviewed this man and determined that he was the culprit in an additional six (6) South Bend bank robberies that are now considered resolved. Major Case Unit Detective Sgt. Ronald Nowicki is in charge of the investigations. The suspect is currently being held at the St. Joseph County Jail for Violation of Parole, No-bond Warrant and a State charge of Robbery.

This case has been presented to Federal Authorities for possible charges in U.S. District Court.

Suspect is one:

Renell D. Baker, male 49, of South Bend.

Arrested after robbing:
Notre Dame FCU, 3457 N. Portage, 10-20-07.

Connected to robberies of:

Key Bank, 2806 Lincoln Way West, 09-11-07;
MFB, 100 E. Wayne, 07-25-07;
Chase Bank, 211 W. Washington, 06-09-07;
LaSalle Bank, 130 S. Main, 03-13-07;
MFB, 100 E. Wayne, 01-29-07;
Key Bank, 2806 Lincoln Way West, 12-13-06

Tuesday, October 23, 2007
South Bend Students to Take Pledge Against Gun Violence
_____________________
On Wednesday, October 24, 2007, at 10:00 AM, the student body of Navarre Intermediate Center will participate in an assembly where they will sign a "Student Pledge Against Gun Violence".

Principal Derrick White and Superintendent Bob Zimmerman will welcome Mayor Stephen Luecke, Prosecutor Michael Dvorak, Assistant U.S. Attorney Barbara Brook and Police Chief Thomas Fautz as Chief Fautz administers the Student Pledge.

This signed and affirmed pledge is the student's oath that they will not participate in gun violence in our community. All South Bend students will be participating in this national event that has been in existence since 1996.

Wednesday, October 17, 2007
Officers To Receive Upgraded Traffic Safety Vests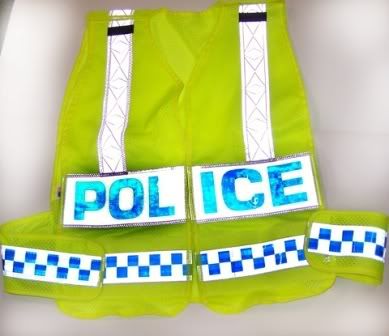 _______________
"The number of law enforcement officers killed in the United States soared by 44 percent during the first six months of 2007, and for the first time in three decades, more than 100 officer deaths were recorded by the halfway point of the year, according to preliminary statistics from the National Law Enforcement Officers Memorial Fund (NLEOMF) and Concerns of Police Survivors (COPS). Of the 101 officers killed during the first half of 2007, 45 died in traffic-related incidents. That's an increase of 36 percent from the 33 traffic-related fatalities during the first six months of 2006."
In response to this troubling statistic, the SBPD has been increasing it's efforts to sharpen officers proficiency on emergency vehicle operations. In conjunction with driver training, the department is issuing a new generation of traffic safety vest to address the danger in officers walking on the open roadway.
The department is deploying the new generation of traffic safety vest this week and hopes that all officers will have the equipment for this Saturday's Notre Dame football traffic detail, which will have in excess of 45 SBPD officers in the streets managing traffic flow in darkness. Officers have been issued reflective vests for years, however this new generation of vest conforms with mandatory, 2008 American National Standard Institute (ANSI) standards along with homeland security standards for emergency personnel designation. The vests were custom made for the SBPD by MTS Safety Products to allow access to the gun/duty belt as well as break-away if the officer becomes entangled with a vehicle or a suspect pulls at the vest.
Friday, October 12, 2007
Search Warrant Nets Stolen Property
____________
The SBPD in collaboration with SJCPD and other local law enforcement agencies executed a search warrant at 55315 Ash Rd. (County Line) in Eastern St. Joseph County. The warrant is linked to an ongoing investigation regarding stolen merchandise that began in South Bend and led to this location.

Taken into custody was: Daniel Palka, male, age 40 of 55315 Ash Rd., Osceola.

Palka will be booked into the St. Joseph County Jail and charged with multiple Felony counts of Possession of Stolen Property. Several items ranging from power tools to construction equipment to Mopeds were seized and other items are in the process of being examined as possible stolen property. The case is being forwarded to the St. Joseph County Prosecutors Office at this time for possible additional charges.

Anyone with information on this individual or any stolen property enterprise is asked to call the SBPD Investigative Division at 574.235.9263 or Crime Stoppers at 574.288.STOP

Serial Robbery Suspect Arrested
_______________
SBPD reports the arrest of a suspect who has been linked to at least four (4) local Robberies.

Police arrested Brandon Lohse, Male age 31, of Plymouth, Indiana, in connection with four robberies that had been committed in the city. They include:

Robbery to an 82 year old female resulting in her injury at the Wallgreens, 1351 N. Ironwood Dr., on 10-07-07;
Robbery to a 53 year old male outside of the Kitchenette Restaurant, 2221 S. Michigan St., on 10-06-07;
Robbery to a 44 year old male outside of Jovi's Lounge, 1907 S. Miami St., on 10-06-07;
Robbery to a 39 year old male outside of the Kitchenette Restaurant, 2221 S. Michigan St., on 10-03-07.

Lohse was booked into the St. Joseph County Jail under charges of: Robbery, Class B Felony and three (3) counts of Robbery, Class C Felony. Investigators have forwarded the cases to the Prosecutors Office. The names of additional co-conspirators have also been sent with the case for possible additional charges on other individuals. Investigators are looking into the possibility of this suspect being involved in other criminal activity in and around the City. Anyone with additional information on Lohse or his criminal activity is asked to call the SBPD Investigative Division at 574.235.9263 or Crime Stoppers at 574.288.STOP

Lohse was originally arrested on 10-11-07 in the 900 block of 35th street as he and two other men were stopped by patrol officers. At that time, he was taken into custody due to outstanding arrest warrants and Driving While Suspended. Inside the vehicle (a Blue 1991 Chevy Astro Van) at the time was a stolen license plate that was reportedly used on the getaway car involved in the robbery to the 82 year old woman at the Wallgreens Store on 10-07-07.

Crime Analysis personnel and Investigative Division detectives were tracking the robberies in which similar suspect descriptions and vehicles (including the above van) were used. When the patrol officers seized the stolen getaway car plate and the above van, investigators were able to pinpoint their suspects.

This is an example of all of the elements of the police department coming together to solve a string of serial robberies, and take a dangerous offender off of the streets.

Thursday, October 11, 2007
Afternoon Shooting Leaves Man Seriously Injured / UPDATE
______________
At 12:12 PM on this date, the SBPD Communications Center received a call of a shooting in the 3600 block of Curtiss Dr., which is located in the Beacon Heights housing project.

Officers arrived and found a 19 year old South Bend man suffering from a gunshot wound to the back. He was rushed by SBFD ambulance to a local hospital where he is in stable condition.

Investigators are speaking with witnesses and have identified possible suspects in the shooting. It appears that the suspects and victim were aquainted and this was not a random act. Police were initially told that three male black subjects had fled the area after the shooting in a silver Chevrolet product.

Anyone with information on this case is asked to call the SBPD Investigative Division at 574.235.9263 or Crime Stoppers at 547.288.STOP

The investigation continues at this hour and a media release will be issued if any arrest(s) is/are made.
__________________
UPDATE: 10-12-2007

At approximately 7:00 PM last evening, three suspects were taken into custody in connection with the shooting of Brandon Sutton in the 3600 Block of Curtiss Drive.

Taken into custody were:

Brian McNeill, male, age 23 of South Bend;
Brandon McNeill, male, age 20 of South Bend;
Lavar Labostrie, male, age 27 of South Bend.

The booking charges on all three suspects are: Aiming and Pointing a Firearm (Felony) and Possession of a Handgun (Misdemeanor). The investigators in this case continue to interview witnesses and expect to confer with prosecutors for additional charges if warranted.

Friday, October 05, 2007
Threat at Local High School Under Investigation
_______________
The SBPD is currently investigating a case in which a custodian at St. Joseph's High School (South Bend) discovered a written document that threatens a group of students. The threat is racially based against six African American students who attend St. Joseph's High. The students and their parents have been made aware of the situation and have already met with school and police officials.

We ask that any student or member of the community with knowledge of the identity of the individual(s) who authored this document immediately call the SBPD Communications Center at 574.235.9361 or Crime Stoppers at 574.288.STOP

Police Apprehend Bank Robbery Suspect
_____________________

At 10:53 AM this date, police were alerted to a foiled robbery attempt at the National City Bank, located at 1044 N. Bendix Dr. in South Bend. While employed as a security guard by the bank, an off-duty North Liberty police officer was inside when he noticed a male suspect entering the bank wearing a mask over his face. He immediately began to approach the suspect who at that time noticed the officer and fled. As the officer began to chase the suspect on foot, a green vehicle also fled the lot at a high rate of speed. The suspect was chased into a residential area, southeast of the bank. South Bend officers also joined the foot pursuit and the suspect was apprehended as he was attempting to kick open a door to a residence in the 2700 block of Prast Street. A female resident was home at the time of the attempted burglary and was unharmed.

The green vehicle that sped away from the scene at the time the chase began was located nearby, abandon and still idling. The vehicle was listed as stolen from South Bend. According to a witness, the driver of the vehicle abandon the car and entered a second vehicle and departed prior to the arrival of police.

At this time, the suspect in the robbery attempt and subsequent burglary is being booked into the County Jail for those charges. His identity is being withheld pending positive ID.

Archives
06/01/2005 - 07/01/2005 07/01/2005 - 08/01/2005 08/01/2005 - 09/01/2005 09/01/2005 - 10/01/2005 11/01/2005 - 12/01/2005 12/01/2005 - 01/01/2006 01/01/2006 - 02/01/2006 02/01/2006 - 03/01/2006 03/01/2006 - 04/01/2006 04/01/2006 - 05/01/2006 05/01/2006 - 06/01/2006 06/01/2006 - 07/01/2006 07/01/2006 - 08/01/2006 08/01/2006 - 09/01/2006 09/01/2006 - 10/01/2006 10/01/2006 - 11/01/2006 11/01/2006 - 12/01/2006 12/01/2006 - 01/01/2007 01/01/2007 - 02/01/2007 02/01/2007 - 03/01/2007 03/01/2007 - 04/01/2007 04/01/2007 - 05/01/2007 05/01/2007 - 06/01/2007 06/01/2007 - 07/01/2007 07/01/2007 - 08/01/2007 08/01/2007 - 09/01/2007 09/01/2007 - 10/01/2007 10/01/2007 - 11/01/2007 11/01/2007 - 12/01/2007 01/01/2008 - 02/01/2008 02/01/2008 - 03/01/2008 03/01/2008 - 04/01/2008 04/01/2008 - 05/01/2008 05/01/2008 - 06/01/2008 06/01/2008 - 07/01/2008 07/01/2008 - 08/01/2008 08/01/2008 - 09/01/2008 09/01/2008 - 10/01/2008 10/01/2008 - 11/01/2008 11/01/2008 - 12/01/2008 12/01/2008 - 01/01/2009 01/01/2009 - 02/01/2009