South Bend Police Department Press Release
Thursday, August 30, 2007
Human Remains Found in Lot on Niles Avenue; WITH UPDATE
_______________
Shortly after 8:30 AM, on this date, the SBPD was called to a auto storage lot, located in the 100 block of North Niles Avenue. The lot, which is owned by Lasalle Body Shop, is surrounded by a fence. While a worker was reportedly performing some grounds keeping tasks, the skeleton remains of a human were found in a severely overgrown part of the lot. The St. Joseph County Metro Homicide Unit (MHU) were immediately summoned and an investigation is currently underway.
Although there was printed identification found with the remains, medical personnel and the Coroner's Office will have to positively identify the deceased due to the condition of the body. Anyone with information on this found body is asked to call MHU at 574.235.5009 or Crime Stoppers at 574.288.STOP
_______________
UPDATE
The deceased person has been tentatively identified, through identification and
personal property found on his body, as Toby Wynn, 50, of South Bend.
The autopsy was completed on Mr. Wynn's body yesterday. The autopsy revealed
no trauma to his body; the cause of death is listed as undetermined pending
toxicological testing. The testing is anticipated to be completed within a few weeks.
The County Metro Homicide Unit has exhausted all known avenues in attempting to
locate Mr. Wynn's family to notify them of his death. Any family members or friends
of Mr. Wynn are asked to contact the County Metro Homicide Unit at 235-5009.
Explosives Found in Former Police Vehicle
______________
Shortly after 7:00 PM, last evening (08-29-07), the SBPD received a call from an individual who stated he located what he believed to be explosives in a former police vehicle that he had purchased at a City auction.

Officers, including a bomb specialist, arrived and found what was identified as a quantity of "blasting caps" and plastic explosives that had been located in a former SBPD Bomb Disposal Unit vehicle. The items were immediately taken to a safe storage area. The quantity of explosives that was located had the approximate power to destroy the interior of the vehicle in which it was found.

Chief Thomas Fautz has called for an immediate investigation into the circumstances surrounding the police vehicle being released to the public while still containing these items. He has further ordered an audit of all departmentally owned or retained explosive material. Chief Fautz also stated that he is asking the Bureau of Alcohol Tobacco and Firearms (ATF) to conduct an independent review of the SBPD storage, handling and transport of it's explosives as soon as possible.

The South Bend Police Department regrets this occurrence and promises a vigorous investigation into this matter.

Tuesday, August 28, 2007
Indecent Exposure Suspect Arrested
_______________
On August 21st. of this year, Sergeant David Herron, a SBPD School Resource Officer (SRO), was approached by a student at Dickinson Intermediate Center in South Bend. He was told of an incident that occurred while the student was near her bus stop on Wilber Street, in which a Male Latino had exposed himself to her. Sgt. Herron then immediately filed a case report regarding the incident, and began investigating.

For the next three consecutive days, Sgt. Herron went to the area of the bus stop at the appropriate time and conducted surveillance. On the morning of August 24th, Sgt. Herron spotted a suspicious pick-up truck parked in the alleyway. A suspect matching the description of the offender then exited and began to reportedly turn his attention to the area of the bus stop, where the exposure had occurred three days before. At that time, Sgt. Herron summoned a uniform patrol unit and confronted the suspect. The man was then taken to the St. Joseph County Special Victims Unit where he was interviewed. The man was subsequently arrested and booked into the St. Joseph County Jail for three (3) counts of Indecent Exposure. He is identified as one:

Luis Tinoco, Male, 26 of South Bend.

Monday, August 27, 2007
SBPD Asks for Help in Identifying Found Body
_________________
At 12:10 PM, the SBPD received a call of a possible body in a pond located near the Irish Hills Apartments Office. Police and Fire Department officials arrived and found the body of a deceased female floating in the pond. At this time, the cause of death is unknown so the St. Joseph County Metro Homicide Unit (MHU) was called-in to investigate.

Investigators are asking the public to assist in identifying the female. She is provisionally described as:

Female, White;
Adult (unknown age);
Short cropped hair, possibly brown in color;
Wearing: Black Tank-top and Black "Cherokee" brand shorts.

The female was in the water for a duration long enough to cause sufficient disfigurement and thus obscure the age, and any scars marks or tattoos. An autopsy is scheduled for Tuesday, 08-28.

Anyone with information on the identity of the female or any other facts in this case is asked to call the MHU at 574.235.5009 or Crime Stoppers at 574.288.STOP.

Tuesday, August 21, 2007
Two Shootings Leave Three Men Injured Overnight
__________________
Two seperate shootings in South Bend left three men in local hospitals overnight.

A shooting in the 700 block of North Scott Street at 10:30 PM left a 20 year-old South Bend man at a local hospital for a non life-threatening gunshot wound to the back. Police were called to the 600 block of North Scott Street where they were told by the victim that he had been chased and shot by a group of men who had initiated a confrontation in the street. No arrests were made in the incident, however the investigation is continuing. The victim remains in stable condition at a local hospital.

Later, at approximately 1:00 AM, police were called to the "Club 23" bar at 744 North Notre Dame Avenue where two men had been shot in front of the establishment. Officers arrived to find two University of Notre Dame students, ages 21 and 22, suffering from gunshot wounds. The 22 year-old man had been shot in the abdomen and leg and was rushed to a local hospital and surgery. The 21 year-old man was treated and released with a leg wound. Currently, the 22 year-old is recovering and in stable condition.

The shooting reportedly stemmed from a confrontation between at least one of the students and the suspect, who approached the two from the street. Following the shooting, the suspect reportedly fled north in a vehicle that was occupied by two other men.

Individuals with information on either one of these incidents are asked to call the SBPD Investigative Division at 574.235.9263 or Crime Stoppers at 574.288.STOP.

Saturday, August 11, 2007
Early Morning Stabbing Leaves Man in Critical Condition. With Update
_________________
South Bend Police responded to 643 E. Bronson Street on August 11th, 2007 at 5:42 a.m. regarding a report of a Man Down. Officers arrived, were met by a male individual who informed Officer there was no problem at the residence.

South Bend Police responded to 643 E. Bronson Street again at 6:21 a.m. after a woman rode a bicycle to the South Bend Police station requesting assistance for her boyfriend who was inside the residence. Officers arrived to find a male, age 46 years old inside the residence suffering from life-threatening injuries. The man was transported by South Bend Fire Department Paramedics to a local hospital where he underwent emergency surgery and his condition is listed as critical at this time. The individual's name is being withheld pending notification of family members. The man is believed to be a South Bend resident.

Investigators are currently interviewing individuals that may have knowledge of what transpired at the Bronson Street address, however it is not known for certain exactly where the assault may have taken place. Although the victim is critical, the South Bend Police Department is retaining the investigative authority on this case.

Anyone with information concerning this serious aggravated assault is asked to call the SBPD Investigative Division at 574.235.9263 or Crime Stoppers at 574.288.STOP.
_____________________
UPDATE:
08-12-2007; 5:00 PM:

The victim of yesterdays early morning stabbing has been identified as one:

BARKER, KENNETH J.; Male, age 46 of South Bend.

His condition has been upgraded from "critical" to "serious", as of this afternoon.

Tuesday, August 07, 2007
SBPD Auction Set For Saturday, August 11th.
________________
The public is invited to the South Bend Police Department's Auction of seized and found property, as well as unclaimed and surplus items on Saturday, August 11, 2007. The auction will be staged in the garage at the rear of police headquarters at 701 West Sample in South Bend.

Doors will open for inspection of items at 8:00 a.m., with the auction action beginning at 8:30 a.m. There are plans for the department's Explorer Post 911 youth to be selling refreshments. The traditionally large assortment includes bicycles, cameras, clothing, computers, electronics equipment, lawnmowers, tools, office equipment…and much more.

Conducted by Kaser's Auction Service, auction items will be sold "as is" and the auction will proceed until sales are complete. As always, SBPD auctions are cash only; no checks.

Morning Bank Robbery on City's West Side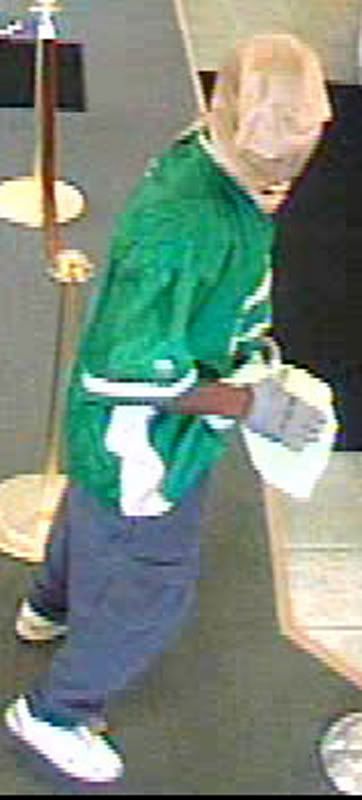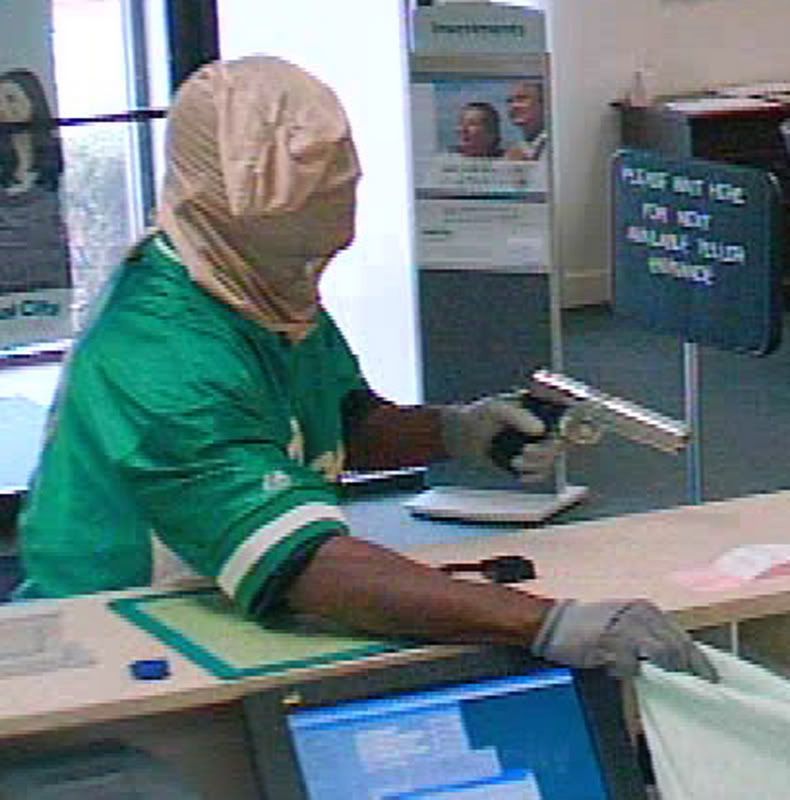 _________________
Robbery; National City Bank, 1044 N. Bendix Drive, 10:56 AM
Shortly before 11:00 AM on this date, a male, African American entered the above listed National City Bank branch armed with a silver handgun and demanded cash. The subject, after receiving some currency, placed it in a cloth bag and exited the bank. He then rode away in a southeasterly direction on a black bicycle. It is believed that a red dye-pack that was mixed with the money detonated as the suspect departed. The black bicycle and what is possibly the mask used to obscure his face was later located approximately two blocks to the south of the institution.
The suspect is described as:
Male, African American, approx. 5'-10"; 180#; Medium Complexion
wearing a lime green mesh basketball jersey with a shamrock on same and
sweat pants.
Investigators are currently examining surveillance video from the bank as well as interviewing witnesses. No one was injured during the robbery and there was at least one customer in the business at the time of the incident.
Anyone with information on the identity of the suspect in this case is asked to call the SBPD Investigative Division at 574-235-9263, or Crime Stoppers at 574-288-STOP.
Archives
06/01/2005 - 07/01/2005 07/01/2005 - 08/01/2005 08/01/2005 - 09/01/2005 09/01/2005 - 10/01/2005 11/01/2005 - 12/01/2005 12/01/2005 - 01/01/2006 01/01/2006 - 02/01/2006 02/01/2006 - 03/01/2006 03/01/2006 - 04/01/2006 04/01/2006 - 05/01/2006 05/01/2006 - 06/01/2006 06/01/2006 - 07/01/2006 07/01/2006 - 08/01/2006 08/01/2006 - 09/01/2006 09/01/2006 - 10/01/2006 10/01/2006 - 11/01/2006 11/01/2006 - 12/01/2006 12/01/2006 - 01/01/2007 01/01/2007 - 02/01/2007 02/01/2007 - 03/01/2007 03/01/2007 - 04/01/2007 04/01/2007 - 05/01/2007 05/01/2007 - 06/01/2007 06/01/2007 - 07/01/2007 07/01/2007 - 08/01/2007 08/01/2007 - 09/01/2007 09/01/2007 - 10/01/2007 10/01/2007 - 11/01/2007 11/01/2007 - 12/01/2007 01/01/2008 - 02/01/2008 02/01/2008 - 03/01/2008 03/01/2008 - 04/01/2008 04/01/2008 - 05/01/2008 05/01/2008 - 06/01/2008 06/01/2008 - 07/01/2008 07/01/2008 - 08/01/2008 08/01/2008 - 09/01/2008 09/01/2008 - 10/01/2008 10/01/2008 - 11/01/2008 11/01/2008 - 12/01/2008 12/01/2008 - 01/01/2009 01/01/2009 - 02/01/2009