South Bend Police Department Press Release
Monday, July 30, 2007
7 Year Old Girl Victim of Gunshot Wound
__________________

At about 11:45 PM last evening police responded to a call of a residential robbery in the 600 block of South Illinois St. in the City. Police were advised that a 7-year-old child had been shot during the fray. Officers arrived and found the child wounded in the left thigh. She was transported to a nearby hospital with non life-threatening injuries.

Residents state that two men armed with handguns kicked-in the back door of the home and made entry. Once inside the two adults and several children fled to bedrooms, however during the attempt to enter one of the rooms a shot was fired and the young girl was struck. The suspects then fled the residence.

During the investigation, a small quantity of narcotics were discovered on the property, however it is unknown if they played a part in this residential robbery.

At this time, the SBPD Major Case Unit and the County Metro Special Operations Section are investigating the incident and are asking anyone with knowledge of the suspects identities call the Investigative Division at 574-235-9263, or Crime Stoppers at 574-288-STOP.

Monday, July 16, 2007
SBPD Mourns the Loss of Cadet Kelly Dulcet
__________________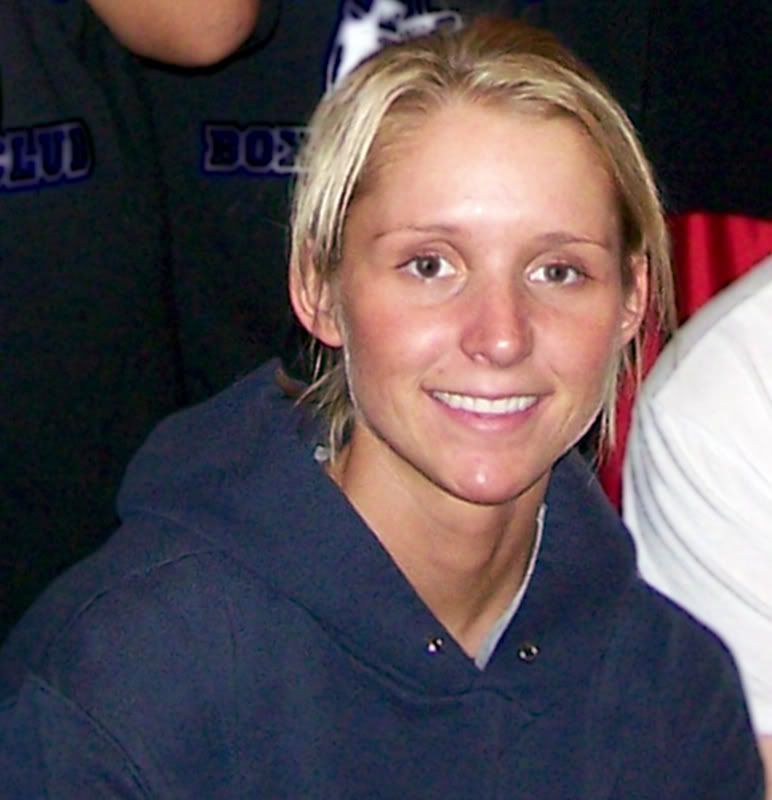 __________________
From the South Bend Tribune:
Kelly Ann Dulcet, 21, passed away at 11:55 p.m. on Thursday, July 12, in Memorial Hospital. On December 27, 1985, Kelly was born in South Bend to Dennis and Ruth (Strzelecki) Dulcet. She was a graduate of Holy Family Grade School and a 2004 graduate of Washington High School in South Bend. She was a 4-year member of the Varsity Volleyball Team, a member of the National Honor Society and a member of the Drama Club. She is survived by her parents; a brother, Andrew of South Bend; maternal grandmother, Virginia Strzelecki of South Bend; aunts and uncles, Carol and Mike Szedenik of South Bend, Ron and Laura Strzelecki of New Carlisle and Linda and Dave Krzyzaniak of South Bend; and cousins, Bob and Amy Bradburn, Ron and Denise Strzelecki, and Stephanie and Kimberly Krzyzaniak. Kelly was preceded in death by her paternal grandparents, Alphonse and Sophie (Zielewski) Dulcet. Kelly was a cadet with the South Bend Police Department. She was an avid volleyball player from grade school into her adult life, at club level, with the Dunes Valley Ball Club. She was a member of Holy Family parish and was a senior at IUSB in the criminal justice program. Visitation will be from 2 to 8 p.m. Monday, July 16, in ST. JOSEPH FUNERAL HOME, 824 S. Mayflower Road, South Bend, where a Rosary will be prayed at 4:30 p.m. A Mass of Christian Burial will be celebrated at 10 a.m. Tuesday, July 17, in Holy Family Catholic Church. Entombment will follow in Guardian Angels Mausoleum, St. Joseph Cemetery, South Bend. In lieu of flowers, contributions may be made to The Kelly Dulcet Scholarship Fund at Policeman's Credit Union for Criminal Justice Studies.
SBPD Arrest Bank Robbery Suspect
_____________
On this date, at 9:50 AM, the South Bend Police Department received a call of a robbery in progress at the First Source Bank located at 2323 S. Michigan Street, in the city. While the call was being dispatched, Lt. Jeff Rynearson, the commander of the SBPD K-9 Unit was driving past the institution, southbound on Main Street when he saw the two suspects fleeing the area of the bank. Lt. Rynearson began a pursuit on foot which led to one suspect being taken into custody and a recovery of money and other evidence.

According to bank personnel, the two male suspects entered the branch, approached the tellers and demanded money. They did not state they were armed, nor was any implication of such made. After making the demand, the two reportedly jumped the tellers counter and began removing the cash themselves. After a short time, the suspects exited the building and got into a silver vehicle and left southbound on Main St. which is when they encountered Lt. Rynearson. The silver vehicle was abandon at Fairview and Main Streets when the occupants fled on foot.

The identity of the suspect in custody and the second suspect, who remains at large, are not being released pending positive identification. The silver vehicle which was used in the robbery was found to have been stolen from the City of Mishawaka approximately 5 days ago. Two dye-packs also detonated with the suspects causing the vehicle, clothing and cash to be saturated with red dye. No one was injured in this case.

Anyone with information on this robbery or the identity and/or whereabouts of the second suspect is asked to call the SBPD Investigative Division at 574.235.9263 or Crime Stoppers at 574.288.STOP.

Monday, July 09, 2007
Funeral Details for ISP M/Trooper David E. Rich
__________
What: Funeral services for Master Trooper David E. Rich
When: Wednesday, July 11th 2007, at 11:00 a.m.
Where: Honeywell Center Gymnasium, 275 W. Market Street, Wabash, IN.(
MAP
)
Burial will follow at Friends Cemetery in Wabash, IN.
(Viewing is Tuesday, July 10, 2007 between the hours of 2:00 p.m. and 8:00 p.m. at Grandstaff-Hentgen Funeral Service, 1241 Manchester Ave., Wabash, IN. (
MAP
)
Memorial contributions can be made to:
Children of Trooper David Rich Memorial Fund c/o of First Merchants Bank 1250 N. Cass Street, Wabash, IN 46992.
Thursday, July 05, 2007
Vehicle Pursuit Ends With Suspect Crashing Car
_____________
At approximately 4:45 PM on this date, a South Bend Police patrol officer attempted to initiate a vehicle stop near the intersection of Cushing and Lincoln Way West on the northwest side of the city. The vehicle fled the traffic stop and a brief pursuit ensued. The pursuit terminated with the suspect vehicle disregarding the traffic signal at Chapin and Western Avenue and striking the vehicle of an un-involved civilian motorist. The suspect was immediately taken into custody.

No one in the second vehicle was injured, however the suspect complained of miscellaneous pain and was then transported by SBFD medics to a local hospital for a check up. The identity of the suspect is not being released at this time. He is expected to be treated and released from the hospital at which time he will be transported to the St. Joseph County Jail.

Archives
06/01/2005 - 07/01/2005 07/01/2005 - 08/01/2005 08/01/2005 - 09/01/2005 09/01/2005 - 10/01/2005 11/01/2005 - 12/01/2005 12/01/2005 - 01/01/2006 01/01/2006 - 02/01/2006 02/01/2006 - 03/01/2006 03/01/2006 - 04/01/2006 04/01/2006 - 05/01/2006 05/01/2006 - 06/01/2006 06/01/2006 - 07/01/2006 07/01/2006 - 08/01/2006 08/01/2006 - 09/01/2006 09/01/2006 - 10/01/2006 10/01/2006 - 11/01/2006 11/01/2006 - 12/01/2006 12/01/2006 - 01/01/2007 01/01/2007 - 02/01/2007 02/01/2007 - 03/01/2007 03/01/2007 - 04/01/2007 04/01/2007 - 05/01/2007 05/01/2007 - 06/01/2007 06/01/2007 - 07/01/2007 07/01/2007 - 08/01/2007 08/01/2007 - 09/01/2007 09/01/2007 - 10/01/2007 10/01/2007 - 11/01/2007 11/01/2007 - 12/01/2007 01/01/2008 - 02/01/2008 02/01/2008 - 03/01/2008 03/01/2008 - 04/01/2008 04/01/2008 - 05/01/2008 05/01/2008 - 06/01/2008 06/01/2008 - 07/01/2008 07/01/2008 - 08/01/2008 08/01/2008 - 09/01/2008 09/01/2008 - 10/01/2008 10/01/2008 - 11/01/2008 11/01/2008 - 12/01/2008 12/01/2008 - 01/01/2009 01/01/2009 - 02/01/2009