South Bend Police Department Press Release
Thursday, April 26, 2007
Funeral Arrangements for Corporal Nick Polizzotto
Funeral arrangements for Corporal Nick Polizzotto are as follows:

Visitation: Sunday, April 29, 2007; from 3:30 PM - 9:30 PM.; Joyce Athletic and Convocation Center, University of Notre Dame. Click for Map All visitors are asked to enter through Gate 10 of the JACC.

Funeral: Monday, April 30, 2007; 10:00 am.; Joyce Center, University of Notre Dame. Burial Following. Law enforcement personnel are to park marked units in the designated staging area (click the above map) and enter through Gate 4; civilian personnel through Gate 10. For Law Enforcement: The uniform of the day is the Class-A, with the long sleeve shirt and garrison hat.

Burial: Monday, April 30, 2007: Southlawn Cemetery 6520 U.S. 31 South, South Bend. The processional route from Notre Dame to Southlawn Cemetery will be as follows:
Edison Rd. west to Eddy;
Eddy south to Sample;
Sample west past the Police Headquarters;
South on Prairie Ave. to Locust Rd.;
South on Locust to Ireland;
East on Ireland Rd;
Ireland to Michigan (U.S. 31);
South on Michigan to

Southlawn

Cemetery

.

For Law Enforcement: On Friday, April 27, 2007 at 20:30hrs. There will be a ceremonial "Procession of Lights" in which public safety vehicles will travel in a procession past some of Nick Polizzotto's favorite places. The procession is for public safety vehicles that are outfitted with emergency lights only. The assembly point is Elbel Golf Course at 19:30hrs. The route is as follows:
East on

Auten

Rd.;
South on Primrose to Old Cleveland;
East on Cleveland and

Nimtz

Pkwy.;
South on Bendix Dr.;
East on

Lathrop

to Olive;
Olive to Elwood;
West to

Goodland

;
South to Lincoln Way West;
West to the Bypass;
Bypass to S.R. 23;
S.R. 23 to Prairie/

Chapin

;

Chapin

to Sample;
East, passing the

SBPD

;
Sample to Main;
Main to Chippewa/Michigan;
Michigan to Ireland Rd.;
East on Ireland to the parking lot of

TGI

Friday's.
(click on the above map link for a diagram of the route.)

Tuesday, April 24, 2007
Light a Candle For Our Fallen Officer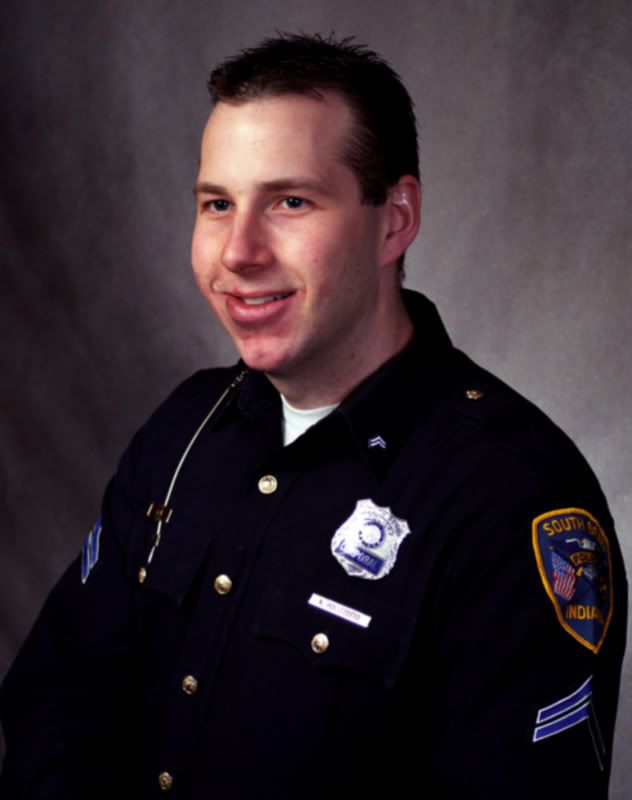 _________
In memory of our fallen South Bend Police Officer, Nick Polizzotto, please light a candle tonight and set it on your doorstep outside.

As our officers patrol our neighborhoods tonight they will know they are in our prayers and that we are thankful for their service.

Pass it on. Lets light their path tonight.
One Officer Killed, One Wounded Overnight
_______________

At 01:39 AM this date, the SBPD Dispatch Center received a call of shots fired in the 1700 block of Lincoln Way East. Officers arriving on the scene were then directed to the Wooden Indian Motel, located at 1631 Lincoln Way East. Moments later the officers were able to locate an armed man and were attempting to detain him when the subject shot both officers. During the encounter, one officer was shot and wounded and the other officer was shot and killed. The suspect in this case was also fatally wounded by gunfire during the exchange.

Officer wounded, with non life-threatening injuries is: Patrolman Michael Norby, a one-and-a-half year veteran of the SBPD.

Officer Killed in the exchange: Corporal Nick S. Polizzotto, a nine year veteran of the SBPD.

The name of the suspect in this case is not being released at this time.

The St. Joseph County Metro Homicide Unit has been called in to investigate this incident.

The SBPD and the City of South Bend offer it's sincere and heartfelt condolences to the Polizzotto family and wish Officer Norby a speedy recovery.

All arrangements are pending.

Monday, April 23, 2007
Candelight Vigil Planned for Scott Severns
________

On Monday, April 23, 2007, at 9:00 PM there will be a Candlelight Vigil commemorating the one year anniversary of the death of Corporal Scott Severns of the SBPD, who was gunned down in a foiled robbery attempt and subsequently died on April 23, 2006.

Members of the community and local law enforcement are invited to attend the short ceremony which will be held at the Police Memorial Monument near the front doors of the Police Headquarters at 701 W. Sample Street in South Bend. The event is scheduled to last approximately 15 minutes. Parking will be in the east lot of the facility and volunteers will be on hand to assist. Visitors may begin to assemble at 8:30 PM.

Police Investigate Late Afternoon Robbery
______________

The Notre Dame Federal Credit Union branch, located at 210 S. Michigan Street in South Bend reported being robbed by a single male suspect wielding a handgun today at 4:08 PM.

The suspect demanded cash from a teller and after receiving an undetermined amount of currency, the subject fled eastbound on Jefferson Blvd. on foot. No one was injured in the robbery and investigators are currently examining surveillance video from the institution in an attempt to identify the suspect. The suspect description is:

Male, African American;
Approximately 40 years of age;
6'-00" / 200#;
Wearing light brown shirt, brown pants
and a brown cap;
Armed with a black handgun.

Anyone with information regarding this robbery is asked to call the South Bend Police Department Investigative Division at 574.235.9263 or Crime Stoppers at 574.288.STOP.

Wednesday, April 18, 2007
SBPD Investigating Accostings to Females
_____________________

During the course of the last three weeks, we have identified three cases in which females, ages 10, 12 and 23 years old have been approached and/or accosted by what could be the same suspect.

At this time no positive link has been made in the three incidents, however we would like to make the following description and method of operation public in the event there are other individuals who have been approached by this person or persons.

Description:

Male, African American.
Approx. 20-30 yrs. of age.
Average height/weight
Driving a Red Mid-Size passenger car or
a Red/Burgundy SUV with custom rims.

In two of the cases, the suspect approached the females on foot, in another case the man stayed in the vehicle.
In two of the cases, the suspect asked then demanded that the females enter his vehicle. In the other case, the suspect approached the female on foot after exiting the vehicle but said nothing as the victim fled.

Incident one: 2300 E. Vine St., 7:15 AM
Incident two: Irish Hills Apartments., 9:30 PM
Incident Three: 2500 E. Rockne Dr., 4:00 PM

Unfortunately, there are no more or better descriptors regarding these cases. We feel however, that there is a high probability that similar, unreported incidents having occurred and would like to hear from any persons having encountered this subject. Additionally, although the subject has not reportedly made physical contact with any of the females he has confronted, we are operating under the belief that the subject does not have good intentions. We would further like to caution the public to be aware of this individual and remind both children and adults to travel in groups when possible, especially during the walk to school or when walking in deserted areas such as parking lots.

If there is a contact with this person occurring or having just occurred, individuals are urged to call 911 immediately. For any person who has been approached by individual in the recent past, they are asked to call the SBPD Investigative Division and relay any pertinent information.

Archives
06/01/2005 - 07/01/2005 07/01/2005 - 08/01/2005 08/01/2005 - 09/01/2005 09/01/2005 - 10/01/2005 11/01/2005 - 12/01/2005 12/01/2005 - 01/01/2006 01/01/2006 - 02/01/2006 02/01/2006 - 03/01/2006 03/01/2006 - 04/01/2006 04/01/2006 - 05/01/2006 05/01/2006 - 06/01/2006 06/01/2006 - 07/01/2006 07/01/2006 - 08/01/2006 08/01/2006 - 09/01/2006 09/01/2006 - 10/01/2006 10/01/2006 - 11/01/2006 11/01/2006 - 12/01/2006 12/01/2006 - 01/01/2007 01/01/2007 - 02/01/2007 02/01/2007 - 03/01/2007 03/01/2007 - 04/01/2007 04/01/2007 - 05/01/2007 05/01/2007 - 06/01/2007 06/01/2007 - 07/01/2007 07/01/2007 - 08/01/2007 08/01/2007 - 09/01/2007 09/01/2007 - 10/01/2007 10/01/2007 - 11/01/2007 11/01/2007 - 12/01/2007 01/01/2008 - 02/01/2008 02/01/2008 - 03/01/2008 03/01/2008 - 04/01/2008 04/01/2008 - 05/01/2008 05/01/2008 - 06/01/2008 06/01/2008 - 07/01/2008 07/01/2008 - 08/01/2008 08/01/2008 - 09/01/2008 09/01/2008 - 10/01/2008 10/01/2008 - 11/01/2008 11/01/2008 - 12/01/2008 12/01/2008 - 01/01/2009 01/01/2009 - 02/01/2009