-
The following is a narrative of the awards given to officers and civilians at the annual SBPD Awards Ceremony, held Sunday, March 26, 2006:-
CHIEF'S AWARD OF VALOR
This Award granted to any sworn member of the Department for an act of outstanding bravery or heroism by which the member has demonstrated in great degree the characteristics of selflessness, personal courage and devotion to duty.
For displaying exceptional courage on May 30, 2005 when you broke out the window to a burning vehicle and entered the vehicle to evacuate an occupant that was trapped inside.
Jason King
THE CHIEF'S AWARD OF MERIT
Is an Award granted to any department sworn or civilian member for an outstanding accomplishment which has resulted in improved administration, improved operation or substantial savings in manpower or operational costs wherein the member has gone far beyond the requirements of his normal assignment to contribute to a more effective police service; or for outstanding police work which has brought great credit to the Department in a case of unusual public interest.
For demonstrating your ability to instruct and certify both sworn and civilian personnel in training areas such as CPR, AED, First Aid, Quick Clot and Blood Born Pathogens, which has ultimately allowed the South Bend Police Department to save substantial operational costs. For unselfishly giving of your self to accommodate the needs of others and members of this community.
Pamela Kaufman
For displaying exceptional initiative in the identification, funding and procurement of a life saving product known as Quick Clot for the Uniform Division of the South Bend Police Department.
Sheldon Scott

For directing the development of and implementing of a state of the art AFIS system for the South Bend Police Department and adjoining jurisdictions. Through your vision and hard work, the South Bend Police Department is one of only three municipal police agencies within the state to have a fully functional AFIS system thus allowing for the rapid collection, classification, and comparisons of 10 print impressions and latents collected from area crime scenes.
Charles EakinsTHE SOUTH BEND POLICE MEDAL
Is an Award which is presented annually by the Chief of Police to recipients of the Award of Valor, or the Chiefs Award of Merit, the Purple Heart, when in his judgment, the accomplishments or performance of the individual member was so outstanding as to justify additional recognition.
For showing courage upon arriving at the scene of a burning vehicle with an occupant trapped inside. By breaking a window and crawling into the vehicle attempting to remove the trapped victim.
Jason KingTHE DEPARTMENT COMMENDATION
Is an award granted to any Department sworn or civilian member for an outstanding act or achievement which brings great credit to the Department and involves performance above and beyond that required by the member's basic assignment.
For your dedicated service with the United States Army on Foreign soils to ensure the freedom of our fellow officers and citizens of this country. Your sacrifice has made the world a safer place.
Anthony Ross

For your dedication and professional achievements resulting in recognition for the South Bend Police Department and for managing various State Traffic and DUI Grants, Local Traffic Programs and special events, Civilian Volunteer Officer Programs and critical traffic related events
William Kraus

For thirty plus years of dedicated service with the South Bend Police Department, always being a mentor, leader and role model for both rookies and veteran officers alike, but most importantly, always treating the public with dignity, respect and compassion each and every day.
Patrick Lahey
For your unselfish and personal commitment to the South Bend Police Department Training Bureau and the community in regards to various recruitment and community policing efforts, media events and excellent problem solving skills you both have displayed during the year 2005.
Anthony Pearson
Antonio Pacheco
THE PURPLE HEART AWARD
Is an award granted to any sworn member who has been seriously or critically injured while in the performance of police duty. In addition, this award may be conferred if injury was averted by wearing body armor. This award will be limited to those cases resulting from attack by an assailant, personal combat, or the performance of an act of valor.
Today we are thankful that we have no purple heart awards to give. We do want to ask
Bill Pelletier
to please stand, we presented him with the purple heart at last years ceremony, we want to let him know how happy we are to have him here
THE COMMUNITY PROBLEM SOLVING AWARD

Is an award granted to any department sworn or civilian member, or member of the community, who shows and exemplary effort to identify, analyze and successfully respond to causes, conditions, and problems that may lead to crime and neighborhood disorder.
For assisting the Regional Crime Intelligence Unit and South Bend Police Department with state of the art GIS Technologies, Training, and support thus making the City of South Bend a safer place for officers and citizens alike.
Deborah Martin
Fang-Hsu-Lin
For your unsurpassed dedication and professionalism displayed while federally prosecuting various gang, drug and violent criminals throughout the South Bend area. Through your actions, the City of South Bend today is a much safer community
Donald Schmid
For your ability to "humanize" the position of Prosecutor, St. Joseph County, Indiana and your ability to professionally identify, analyze and successfully respond to the various criminal elements that Law Enforcement faces each and every day. Your ability to partner not only Law Enforcement personnel from the newest "rookie" to the most senior officer, victims of crimes and their families, and the needs of the community in order to achieve "successful prosecutions" speaks highly of your ability to dispense "fair" justice.
Michael Dvorak
For your individual and collective efforts in granting the South Bend Police Department the various technological tools, training and funding in order to identify, analyze and successfully respond to the causes, conditions and problems that lead to crime and neighborhood disorder.
James Mesterharm
Ryan Holmes
Joseph S. Van Bokkelen
SPECIAL RECOGNITION
In recognition for your outstanding contribution to area law enforcement on behalf of the men and women of the South Bend Police Department we say thank you
Rick Singleton

In recognition of your contributions to the advancement of the forensic capabilities of the South Bend Police Department. On behalf of the City of South Bend we say Thank you.
Pete Striupaitis
In recognition of your generosity towards the South Bend Police Department in allowing us the use of your facilities for EVOC Training. On behalf of the men and women of the South Bend Police Department we say thank you.
John Rastetter

In appreciation of your generosity and support of the South Bend youth tennis program for allowing the multicultural youth of our community the use of your facility and the privilege to interact with your division 1 players. On behalf of the City of South Bend we say thank you.
Bob Baylis
In recognition of your bravery by aiding the South Bend Police Department in the apprehension of a fleeing felony suspect on September 22, 2005. On behalf of the City of South Bend we say thank you.
Rudy Yakym
Invite Pat DeRue Nemeth to Stage along with Frances Maffitt
In recognition of acts of heroism that have resulted in the apprehension of violent felons.
On November 14, 1974 Corporal Thomas DeRue was gunned down while answering a robbery call.
Francis Maffitt
was in the immediate vicinity and witnessed this senseless act of murder. She assisted police in identifying the suspect which aided in convicting the suspect of murdering a South Bend Police Officer.
In appreciation for 30 years of dedicated service to the South Bend Police Department
Diane Villa
The South Bend Police Department recognizes the following individuals for their outstanding achievement in their successful completion and graduation from the Indiana Association of Chiefs of Police Foundation, Police Executive Leadership Academy:
William Kraus, Steven Spadafora, Joseph Galea, Gary Horvath, Cori Bair, Frank Steiger, Jeff Rynearson, Sherri Taylor, Karen Depaepe, Michael Critchlow, Eric Crittendon, Terry Young, Charles Stokes, David Ryans, John Collins, David Hecklinski, David Newton

The South Bend Police Department recognizes you for your years of dedicated service to this community:
Jerome Kreczmer, John Floyd, Daniel Dutrieux, David WoodsEmployees of the Month 2005JAN SCOTT SEVERNS
FEB KELLY WAITE/ CORI BAIR
MARCH DANIEL MORYL
APRIL DAVID HERRON
MAY JASON KING
JUNE FRED EYSTER
JULY GREGORY EARLY
SEPTEMBER WILLIAM SCHMIDT
OCTOBER GALEN PELLETIER / ROBERT WISE
NOVEMBER RICHARD MCGEE
DECEMBER RONALD GLON /CORI BAIRTHE UNIT MERITORIOUS PERFORMANCE AWARD
Is an Award granted to individual sworn or civilian members of a unit who exhibited exceptional professional skill and conduct during a coordinated action.
For your dedication in conducting and receiving advanced training in the field of Crime Scene Investigation which serves as a model for all area Police Departments. For your unselfish dedication in identifying, collecting and documenting forensic evidence at area crime scenes, thus increasing the likelihood that area criminal's will be successfully prosecuted and the community protected.
Uniform Crime Scene Technicians
Michael Suth, Thomas Cameron, Ken Ryan, Galen Pelletier, Dave Modlin, Britton Odle, Steve Hammer, Jason Biggs ,Ron Wilson Jr, Dan Lawecki, Will Johnson, Erik Schlegelmilch, Anne Esher, Antwon Jones, Aaron Brick, Bayne Bennett, Chris Voros, Mike Vanvynckt, Betsy Culp, David Johnson, Kris Hinton, Paul Daley
As a multi-jurisdictional Law Enforcement organization, the County Metro Homicide Unit has redefined the concept of C.S.I. (Crime Scene Investigators) and what we see on TV to the reality based Metro Homicide Unit serving all of St. Joseph County including the cities of South Bend and Mishawaka. Through the dedicated and unselfish efforts of the men and women of MHU, the most gruesome and heinous crimes we face are investigated, evidence forensically located and collected, and criminals identified and brought to justice in a professional manner.
County Metro Homicide Unit
Tim Corbett, Mike Grezgorek, Steven Richmond, James Taylor, Jamie Buford, Christopher Kronewitter, Paul Daley, Randy Kaps, Thomas Cameron, Anthony Bontrager, Alex Arendt, Tim Decker, Ken Cornelis,

As a multi-jurisdictional Law Enforcement organization, the County Metro Homicide Unit has redefined the concept of C.S.I. (Crime Scene Investigation) and what we see on TV to the reality based Metro Homicide Unit serving all of St. Joseph County including the cities of South Bend and Mishawaka. Through your dedication and unselfish efforts and working along side the men and women of MHU, area criminals are successfully prosecuted and incarcerated after committing the most gruesome and heinous of crimes against the citizens of St. Joseph County, Indiana.
Frank Schafer
THE LIFESAVING AWARD

Is an Award granted to any Department sworn or civilian member for a successful effort in saving a human life which involved exceptional courage or performance.
On May 30th, 2005, Ptl. Jason King was dispatched to the 1100 block of Lincoln Way East reference a vehicle into a tree with possible entrapment. Upon arriving at the scene, officers were faced with a burning van and power lines that could fall any minute. Officers attempted to extinguish the burning vehicle but were unsuccessful. Inside of the burning van a male occupant was trapped and had to be rescued. Ptl. King broke out the passenger side window, crawled into the burning van attempting to remove the victim. Unfortunately, the victim in this case succumbed to his injuries but today we recognize Ptl. King for his courage and award him the department's Lifesaving Award
Jason King

On June 13th, 2005, Ptl. Chris Slager along with other assisting officers were dispatched to a Suicide in Progress involving a despondent female who had parked her automobile on a set of railroad tracks in the 700 block of S. Walnut Street in South Bend, Indiana. Ptl. Slager was able to break out the window of her automobile, unlock the vehicle and pull her out of the vehicle all the while hearing a whistle of an approaching train. His actions that evening earned Ptl. Slager the department's Lifesaving Award.
Christopher Slager
On October 21, 2005, Cpl. James Burns along with other South Bend Police Department Officers were dispatched to a home on the cities northwest side reference a medical emergency. When Cpl. Burns arrived, he discovered a young infant in respiratory distress and bleeding from the head. Cpl. Burns assisted medically the critically injured infant until the arrival of South Bend Fire Department's medical personnel. Cpl. Burns' actions eased the pain of this infant at the scene but unfortunately she later died due to her injuries. Cpl. Burns was also instrumental in locating and preserving critical evidence inside the residence regarding the homicide investigation of the young infant. For his actions on that evening, Cpl. Burns is awarded the department's lifesaving award.
James Burns
On May 18th, 2005, Cpl. Reynolds saved the life of a depressed and suicidal subject while he attempted to jump into the St. Joseph River. Without regard to his own safety, Cpl Reynolds was able to gain the confidence of this party, approach him on a railroad trestle and effectively deploy his Taser in order to prevent the subject from harming himself. Cpl. Reynolds was assisted by other SBPD and SBFD officers.
Gary ReynoldsTHE CRIME PREVENTION SPECIAL COMMENDATION
Is an award presented to any Department sworn or civilian member or citizen who, through his or her efforts has made a significant impact on public safety or crime prevention.
For years of dedicated service managing a premier Crime Stoppers program where hundreds of known felons have been apprehended, crimes solved and prevented, and millions of dollars of property recovered.
David Shock
Patricia Fraser

Cpl. Cassel is being recognized today for his years of dedicated service to the community, preventing crimes through public safety education, awareness, surveys and "hands-on" problem solving. For his exceptional efforts in making South Bend a safer community, Cpl. Cassel is awarded the department's Crime Prevention Special Commendation.
Aaron Cassel
THE COMMUNITY ORIENTED POLICING SPECIAL PARTNERSHIP AWARD
Is an award presented to any department sworn or civilian member or citizen who, through his efforts, has made a significant impact upon the quality of life within his or her community by identifying and resolving problems.
For your commitment towards improving the "quality of life" of hundreds of fellow citizens in the South Bend Weed and Seed Area and surrounding South Bend community. Your dedication and friendship towards the South Bend Police Department, its officers, civilians and civilians we all serve will not be forgotten.
Gail Brodie
For your dedication towards furthering the philosophy known as Community Oriented Policing throughout the South Bend Police Department, City of South Bend and even nationally while serving this year as President of the National Citizens Police Academies. From your early NEST days to present your commitment towards improving the "quality of life" for hundreds of South Bend's citizens will not be forgotten.
Richard Powers
For your professional dedication and initiative in managing, directing and supervising the South Bend Weed and Seed Grant. Your service to the community and the South Bend Police Department is greatly appreciated and will be long remembered by the citizens you serve.
Mark Dollinger, Pamela Meyer
For your commitment in the identification and assisting in solving the problems of our growing Hispanic community by using your skills of being an interpreter of the Spanish language.
Esther Salazar, Alma Garza, Rosa Alvarez, Emma Beserra, Juan Lora, Joy Glanz, Antonio Pacheco, Lucas Battani, Nick Zarate, Frank Epperson

For your informative, unbiased reporting and managing the issues that concern our community in partnership with the South Bend Police Department.
Norm StanglandTHE DORTHA PAXTON AWARD
Is an award granted to any Department civilian employee whose performance was characterized by exceptional professional skill, in the tradition of long-time civilian employee Dortha Paxton.
This person last year was nominated for special recognition because of her dedication to her position as the property clerk. She has the unbelievable task of organizing, cataloging and storing the entire inventory of the police department's evidence and found property. This encompasses several very large rooms of items. And I complain about keeping my file cabinet orderly. When a police officer has a question about evidence or found property, this is the person they ask. She has established rigid standards and modernized the evidence storage function. She is known and respected for her efficiency and professionalism.
Diana GishTHE POLICE OFFICER OF THE YEAR AWARD
Is an award granted to any Department sworn officer whose performance of duty during a specific month was characterized by such exceptional professional skill that it merited recognition by the entire Department.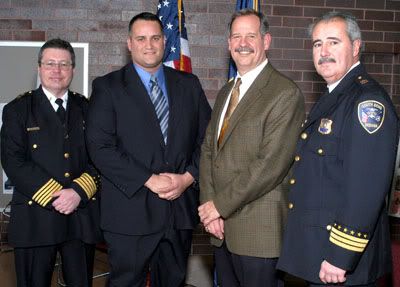 Several years ago, this young officer was the new kid or "rookie" having just been transferred to the uniform day shift, now what we call our "first" detail. What was this "rookie" of several years of police experience going to bring to a shift of veteran officers who had seen and if you ask them, had done it all. This officer today wears many hats, he is a Patrol Officer, Field Training Officer and Uniform Crime Scene Technician, Through out the many years he has been on days as well as other shifts, this young Corporal has displayed the exceptional qualities of being a true "public servant" to his community, city, department and his fellow officers. For his professional performance for the year 2005,
Corporal Galen Pelletier is awarded the 2005 South Bend Police Department's Police Officer of the year award.
The South Bend Police Department in cooperation with Fraternal Order of Police Lodge #36 would like to make the following media advisory concerning telephone solicitations of cash donations:

At this time, FOP #36 is not utilizing telephone solicitors to collect charitable donations in this area. Within the past few weeks the South Bend Police Department through the Fraternal Order of Police has learned that individuals have been telephoning South Bend residents or businesses attempting to secure donated funds using the FOP Lodge #36, name.

The South Bend Police Department and FOP #36 caution all South Bend residents and businesses to beware of this fraud.

The South Bend Police Department NEST Unit arrested 10 suspected prostitutes on the City's near South Side late Wednesday.

In response to neighborhood complaints, the Unit conducted the sweep which used undercover officers posing as patrons of prostitutes.

Nine of the ten arrestees were booked on Misdemeanor charges, with the tenth on Felony charges of prostitution. A Felony charge can be lodged only after the suspect has been convicted of two previous counts of prostitution in the State of Indiana.

The South Bend Police Department is committed to addressing quality of life issues, and asks the public's assistance in reporting suspected prostitution. The NEST Unit plans additional anti-prostitution sweeps whenever this illegal activity is suspected.

From the Michiana Point of View in the Wednesday, March 15, 2006 South Bend Tribune:

South Bend police haven't lost sight of their mission
MICHIANA POINT OF VIEW

THOMAS H. FAUTZ

I want to personally apologize for the recent events that have tarnished the reputation of the South Bend Police Department. I also want to assure this community that we work hard to identify and intercede when an employee is in need of assistance.

Supervisors are trained to recognize signs of stress. Early warning programs and solid employee assistance intervention are available to our co-workers when they need it. We are concerned for these employees as individuals and friends as well as from an organizational perspective. Any error or incident of poor judgment can cause community concern that we have lost sight of our mission. We have not. Each day dedicated men and women of the South Bend Police Department continue to professionally serve this community with dignity and pride.

It has been well-publicized by books, television and the movies that the job of a law enforcement officer can be very stressful. Men and women who dedicate their lives to this profession are often pushed to their breaking point. During this era of unprecedented analysis of this profession, we must remember that the people who make up the law enforcement community are real human beings. Not figures on a TV screen or video game, but real people living in this community. Individuals dedicated to making a positive difference in the face of intense scrutiny and sometimes unwarranted ridicule.

Sadly, the men and women who make up the police profession suffer some of the highest rates of suicide, divorce and alcoholism in the American workplace. They have a much lower-than-average life expectancy. And sometimes, in the midst of personal crises, they can and do make mistakes.

Police work has become more transparent. The public and the media watch us as they never have before. Officers see themselves in a fishbowl, many times unable to make any sort of decision without incurring some form of criticism. We use audio and video equipment at calls and traffic stops to collect evidence and to document our actions. Although this audio and video evidence can refute false complaints, it still represents a significant stressor to young men or women who are simply trying to perform their jobs.

This stress is heightened by the perception that segments of the media are eagerly waiting for the next opportunity to slam or second-guess a police officer. Some of an officer's decisions are made in a split second under intense conditions. Any hesitation can have life and death consequences. We have had cases on our department where an officer has failed to act in his or her self-defense, later citing the fear of public criticism if the decision was not supported or understood by the media.

Our department willingly accepts its responsibility to help employees who we can identify as experiencing a personal crisis. However, personal responsibility is also a key factor. While the stress of the profession can play a role, so does family history, the environment or one's genetics. It takes a lot more than an employer to truly reach a troubled individual. In the case of alcoholism, it is particularly difficult to intercede as the disease's existence is routinely denied by its victim. As with society in general, the help of friends, family and an individual's entire support system, including co-workers, is needed to successfully resolve these issues.

The South Bend Police Department and the city administration will continue to offer employee assistance to anyone who is experiencing problems. We do this confidentially, with dignity and support for the individual. These tools are in place and we have used them. We stand ready to help our friends become healthy again.

Fraternal Order of Police No. 36 has also taken a leadership role in ensuring we have a drug-free workplace and are doing all we can to deal with alcohol problems. The current labor agreement requires that every member of the department be tested through our random drug testing program. The FOP is also working with the administration to find ways to lessen the likelihood that we have other alcohol-related driving events.

When I am asked by our partners outside of law enforcement "What can we do to help?" I have one request: Please continue to support the dedicated men and women of the South Bend Police Department. Former officers who have moved from the area but have continued in law enforcement report that our department remains one of the best compared to other agencies they have encountered. They are disappointed at the perceived lack of support for a progressive, well-equipped, professional organization. This is not the norm in their new locations. I tell them that we are supported; however sometimes it seems to be from the silent majority.

Recently there was a Tribune editorial cartoon depicting a SBPD car and officer inside a liquor bottle. I think this cartoon crosses the line. First it paints all the members of the department with the same brush, certainly not fair to those of us who did nothing wrong. Secondly, to me alcoholism is no laughing matter. This illness cuts across all segments of this country. Politicians, movie stars, sports heroes and, yes, even members of the media suffer from alcohol problems. We have all seen the impact on families and lives because of alcohol abuse.

On the other hand, the perceived isolation from the community that some officers feel is easily reduced when reporters such as Tribune columnist Bill Moor take the time to balance the bad with the good and when community members acknowledge our good work. We as a community must find a way to re-affirm our values, which include valuing peace and order through its police officers. Certainly we as a police department must also maintain your trust by exhibiting the highest ethics. We will do that.

You have my word that I, along with the outstanding men and women of this department, will continue to make South Bend and your police department better than before. We will meet adversity and criticism with hard work, compassion and dedication to community service. I ask that you please continue to support and have confidence in us. It is your law enforcement officers who are taking the leadership role in keeping South Bend safe.

Thomas H. Fautz is chief of the South Bend Police Department.