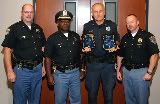 ______________________________________________
South Bend PD Corporal Ronald Glon has won two awards from the St. Joseph County DUI Task Force. The task force is a collaboration of local law enforcement agencies that are funded by Indiana State traffic safety grants to provide extra patrols to curtail drinking and driving and perform general safety patrols. During 2008, Corporal Glon was heavily involved in the traffic safety programs and his awards consisted of:
-St. Joseph County DUI Task Force Officer of the Year
-Top Traffic Safety Officer (averaging 7.3 contacts per hour)
FYI: A contact is counted as any vehicle stop, whether it results in an arrest, citation or warning.
We congratulate Corporal Glon on a job well done.