FOUND ! 8/12/09 Cancel Missing Persons Report.
___________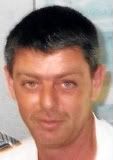 Leroy Mahan was reported to police as missing Thursday, after he failed to return from a bike ride.
Family members say Mahan was last seen in the area near Donmoyer and South Main streets about 11:15 a.m., riding a green woman's mountain bike. He had left his family's house wearing a white T-shirt, blue jeans, a silver watch and black shoes. He also has a tattoo of a cowboy hat on his arm.
Mahan, who is 5 feet 8 inches tall with a medium build, left home without medications for a heart condition and a mental condition.
Anyone with information about Mahan's whereabouts is asked to call the South Bend Police Department at (574) 235-9361.