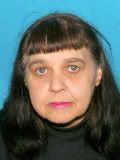 ________________________________
The SBPD received a report of a missing adult female, who was last seen on May 26, 2009. The 61 year old woman left her apartment near the intersection of Riverside Ct. and Riverside Dr.(1700 N. Riverside) on foot and has not been seen since.
The parties reporting her disappearance state that she has some physical issues that impair her ability to walk. She is also dependent of several medications. The missing woman is one:
Linda J. Rowe; F/W 61;
5'-01"/160#; Grey eyes/Brown Hair
Unknown clothing description.
Anyone with knowledge of Ms. Rowe's whereabouts is asked to call their local law enforcement agency or the SBPD at 235-9201.
Follow these stories instantly with SBPD Twitter updates on your cell phone.