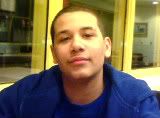 ____________________
The SBPD is investigating a case in which a 17 year old South Bend youth has run away and may be a danger to himself. Missing since April 1, 2009 is one:
Stacy A. Smart, male age 17
5'-08"; 170#; Brown/Brown
Last seen wearing Blue jeans and
a Blue shirt.
He is missing from the Northeast side of South Bend, and the last contact with him was through a friend at Adams High School. He has not been heard from since by any family or known friends.
Anyone with information on this missing person is asked to call the SBPD at 574-235-9201. If he is sighted, persons are asked to call their local law enforcement agency immediately.