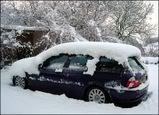 ________________________________
As we brace for a predicted large snowfall, the SBPD is warning vehicle owners that by City Ordinance, all vehicles parked on public thoroughfares must be moved every 72 hours, or be subject to towing.
Parked, snowed-in vehicles pose a difficulty for proper snow removal on city streets. The SBPD will be tagging vehicles that have obviously not been moved in some time and towing them after 72 hours. Unmoved or otherwise abandon vehicles on residential streets collect snow and often times effectively close half of the road.
The South Bend Police Department urges all vehicle owners to move vehicles off the roadway after a large snowfall to allow plows to clean the entire street and promote public safety.