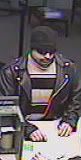 ___________________
On 11/18/2008 at approximately 2:30 PM, the Mutual Bank, located at 742 E. Ireland Rd. was robbed by a lone suspect:
Blue jeans/Cap/Tan sweater with dark vertical stripes/ Black Leather type jacket/thin beard and mustache.
Possible Vehicle: Blue Toyota Camry, with Indiana plate.



If you know who committed this robbery, please call the South Bend Police Department at 574.235.9201, or Crime Stoppers at 800.342.STOP.