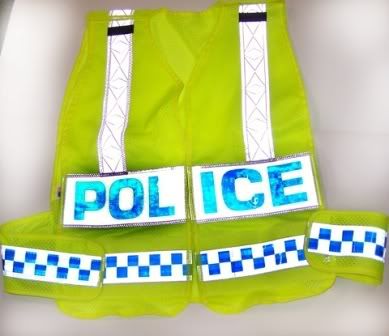 _______________
"The number of law enforcement officers killed in the United States soared by 44 percent during the first six months of 2007, and for the first time in three decades, more than 100 officer deaths were recorded by the halfway point of the year, according to preliminary statistics from the National Law Enforcement Officers Memorial Fund (NLEOMF) and Concerns of Police Survivors (COPS). Of the 101 officers killed during the first half of 2007, 45 died in traffic-related incidents. That's an increase of 36 percent from the 33 traffic-related fatalities during the first six months of 2006."
In response to this troubling statistic, the SBPD has been increasing it's efforts to sharpen officers proficiency on emergency vehicle operations. In conjunction with driver training, the department is issuing a new generation of traffic safety vest to address the danger in officers walking on the open roadway.
The department is deploying the new generation of traffic safety vest this week and hopes that all officers will have the equipment for this Saturday's Notre Dame football traffic detail, which will have in excess of 45 SBPD officers in the streets managing traffic flow in darkness. Officers have been issued reflective vests for years, however this new generation of vest conforms with mandatory, 2008 American National Standard Institute (ANSI) standards along with homeland security standards for emergency personnel designation. The vests were custom made for the SBPD by MTS Safety Products to allow access to the gun/duty belt as well as break-away if the officer becomes entangled with a vehicle or a suspect pulls at the vest.