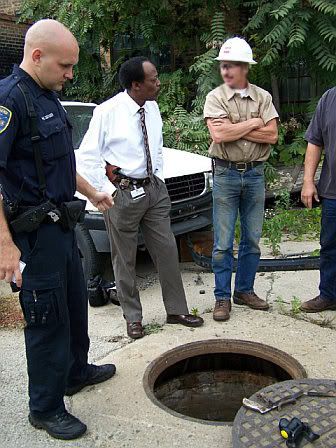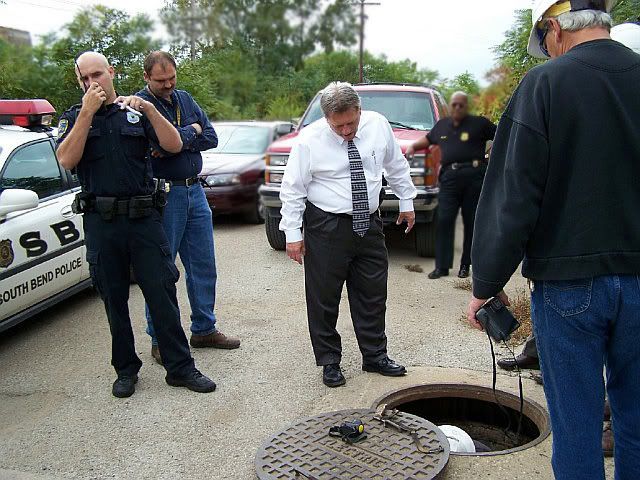 -
The South Bend Police Department dispatch center received a call from a local hospital at 1:45 pm. today, advising that a man had been brought into the emergency room with severe burns as a result of introducing a hack saw into a live electrical cable. At this time the subject is being transferred to the Ft. Wayne burn unit with serious first, second and third degree burns to his arms and face.
After speaking with a witness, who is the same individual that transported the subject to the hospital, it was determined that this occurred in an electrical service manhole in the back of the former South Bend Lathe building. That building is located in the 700 block of West Sample Street.
Police received assistance from the witness in locating the scene and found evidence of what is preliminarily believed to be the illegal removal of copper cable from the underground utility access point. Indiana and Michigan Power was immediately called and are on the scene now assessing the damage.
The injured party is a 20 year old, male resident of Mishawaka. According to a property manager at the scene, the injured person is employed at a business that occupies the former Lathe building; however he stated that no one had permission to remove any copper from the premises.
This case is a tragic example of what can occur when individuals attempt to handle high voltage electric cable. Copper and scrap metal theft from abandon structures and utility companies is fraught with danger, and the South Bend Police Department would like to remind everyone that this is a crime that can have potentially fatal results.
UPDATE: 09-28-2006; 9:30 AM.
The injured party in this case has been identified as Hector J. Balza, male, age 20. The party was originally listed as a South Bend resident, however this information has been corrected. Balza currently lists a Mishawaka address.
The facts of this case, as they are known thus far have been forwarded to the St. Joseph County Prosecutor's Office for review.