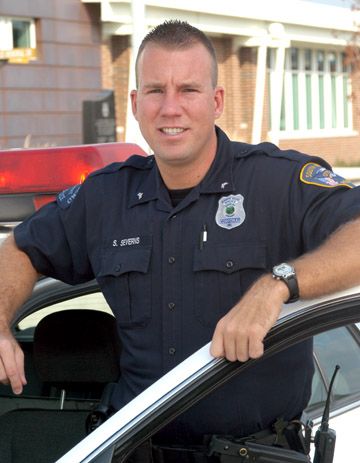 It is with deep regret that we must report that Corporal Scott Severns of the South Bend Police Department, has succumbed to the gunshot injuries that he received on Friday, April 21st. He passed-away at Three o'clock this morning.
Cpl. Severns received his injuries while trying to foil a robbery attempt and protect the life of another person.
He now joins the other members of the law enforcement community who laid down their lives in the protection of others.
In his passing, this community, and our Family, has lost a Son, a Brother, a Grandson, a Community Servant, a Brother Officer, a Friend and a Hero.
Scott was born on June 25, 1969;
Scott is a third-generation South Bend Police Officer;
He graduated from LaSalle High School in 1987 and Bethel College in 1992;
He was sworn in as a South Bend Police Officer on his birthday, in 1997;
He was highly decorated in his 8 year law enforcement career, receiving no less than - Four Officer of the Month awards, - a Chiefs Award of Valor,- a Unit Meritorious Service award for his work of the SWAT team, - and Police Officer of the Year for 2004;
He was a long-time member of the Midnight Shift, Patrol Division, and had recently transferred to the Metro Special Operations Section as a Narcotics Investigator.
Scott possessed a great work ethic, extreme courage and dedication to this department and community. His goal was to someday become a K-9 officer and follow in the footsteps of his Father, Dennis.
The South Bend Police Department and the City of South Bend join in sending our prayers, thoughts and deepest sympathy to the Severns family.
We mourn the loss of our brother and ask the citizens of this community to remember Scott in your prayers.